We make candles with thoughtful designs you can personalize in memory of your loved ones. Every purchase gives back to nonprofits who support families through grief and loss. Thank you for helping us make a difference.
DESIGNED IN HONOR & REMEMBRANCE
MADE WITH YOU & OUR PLANET IN MIND
SIMPLE & SAFE INGREDIENTS

Our candles are made with all natural soy wax, and fragrances that are free of phthalates, parabens and other toxins. Plus, they are cruelty-free and vegan.

ECO-FRIENDLY PACKAGING

All of our packaging is recyclable to help reduce its environmental impact. Our glass jars can be repurposed and our biodegradable packing peanuts dissolve in water.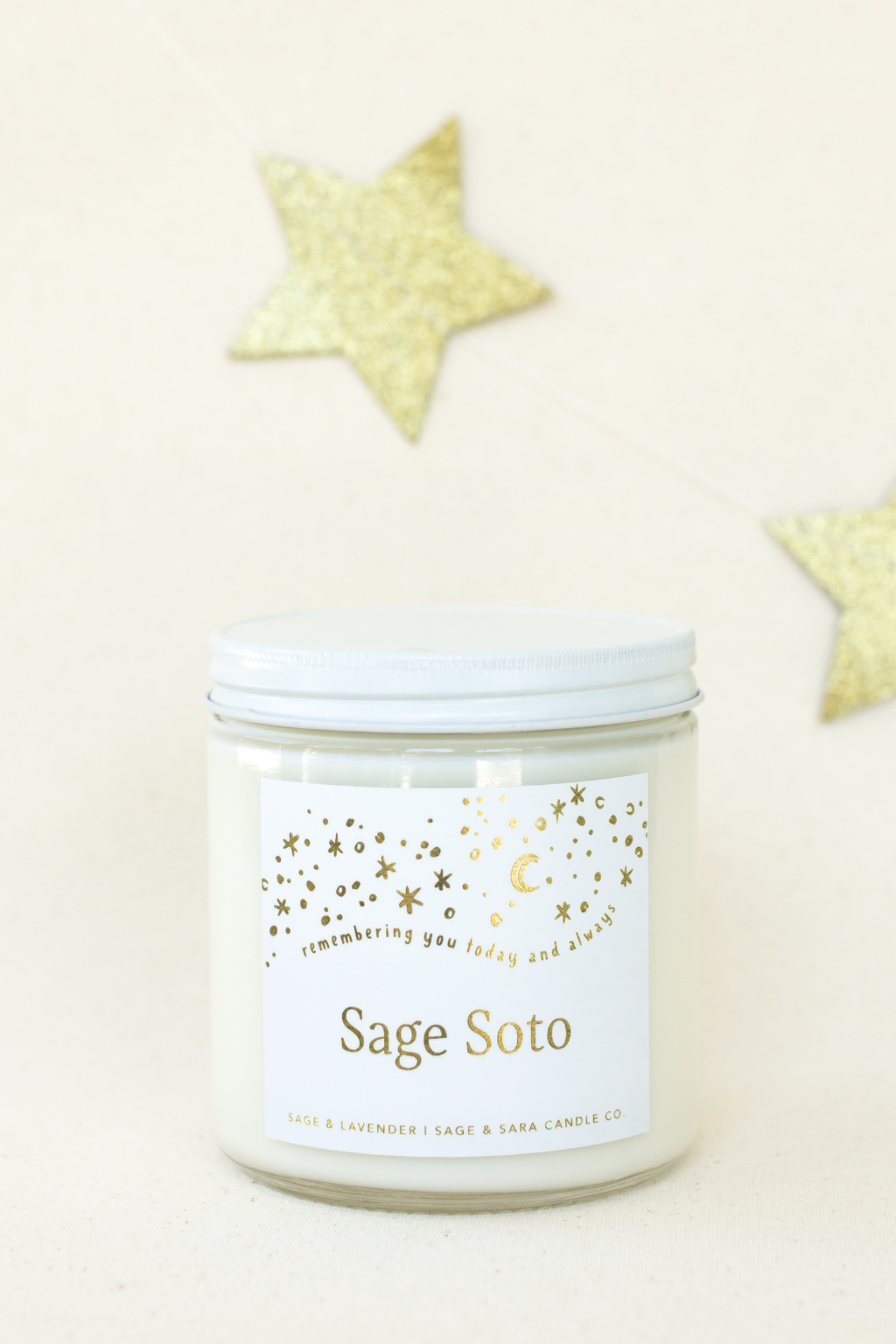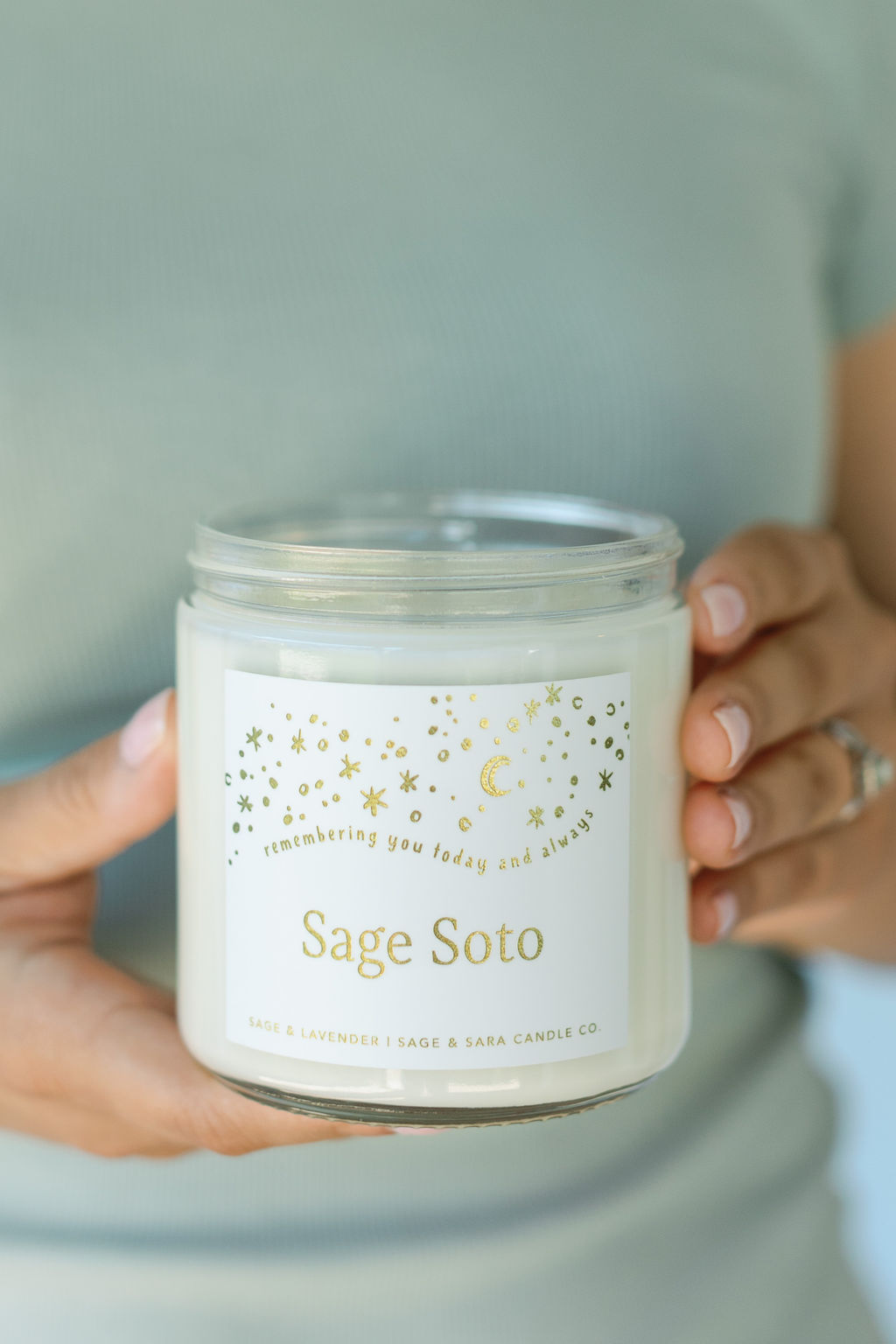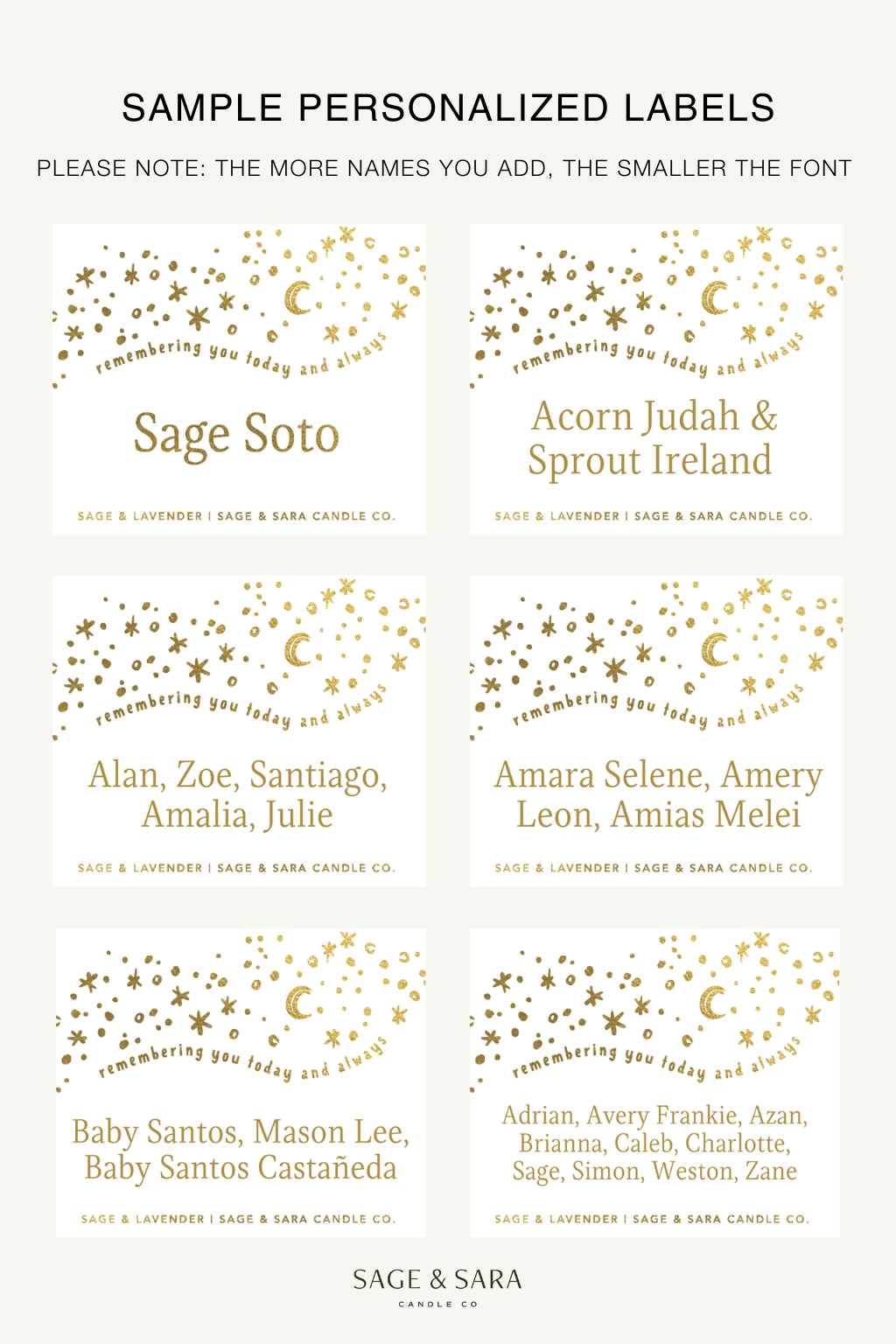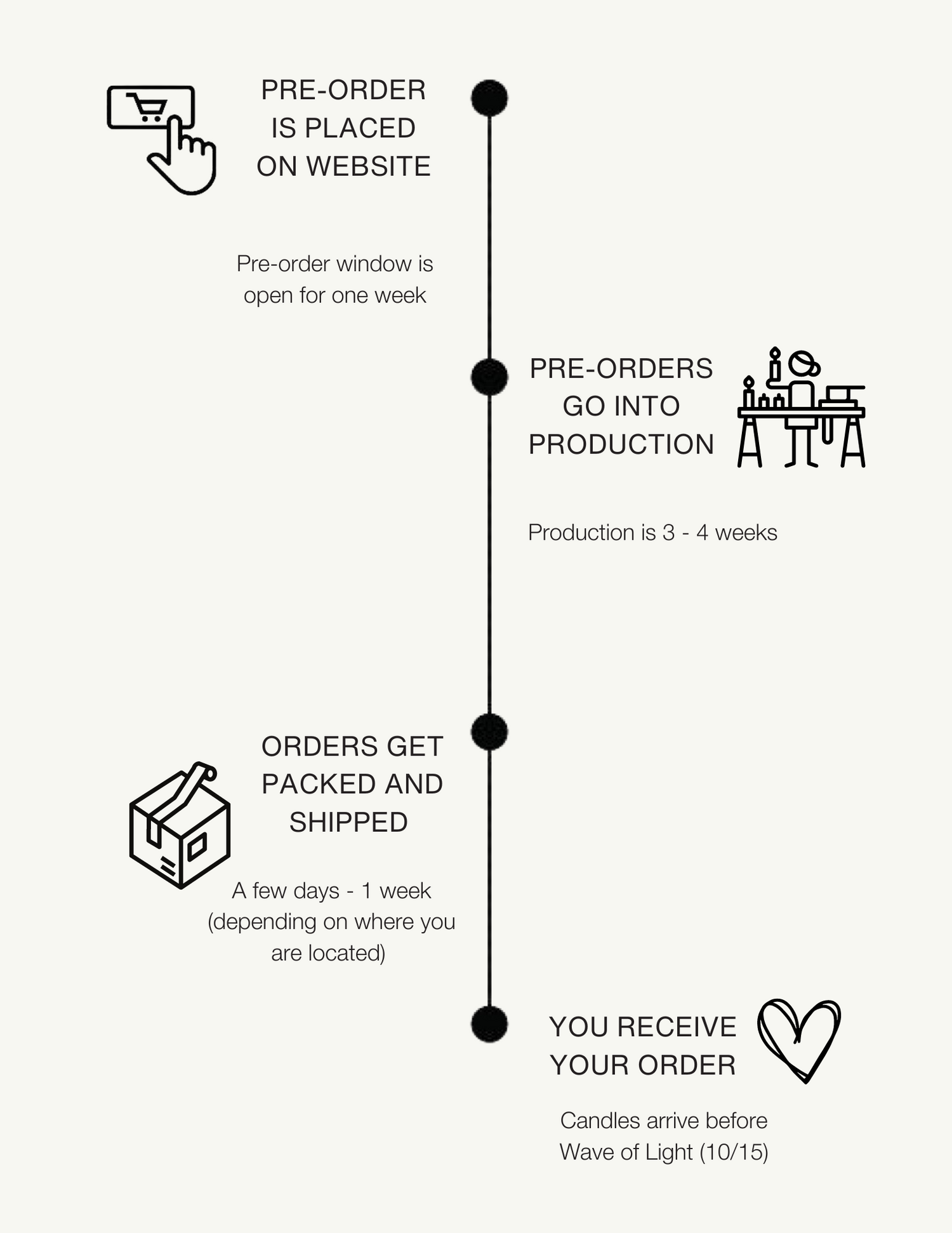 Personalized | Wave of Light 2023
Regular price

Sale price

$30.00
To honor the lives of your little ones, we've created this Wave of Light candle that can be personalized with their names. A beautiful option for those who missed our name submission deadline, or who simply want a candle with only their baby's name.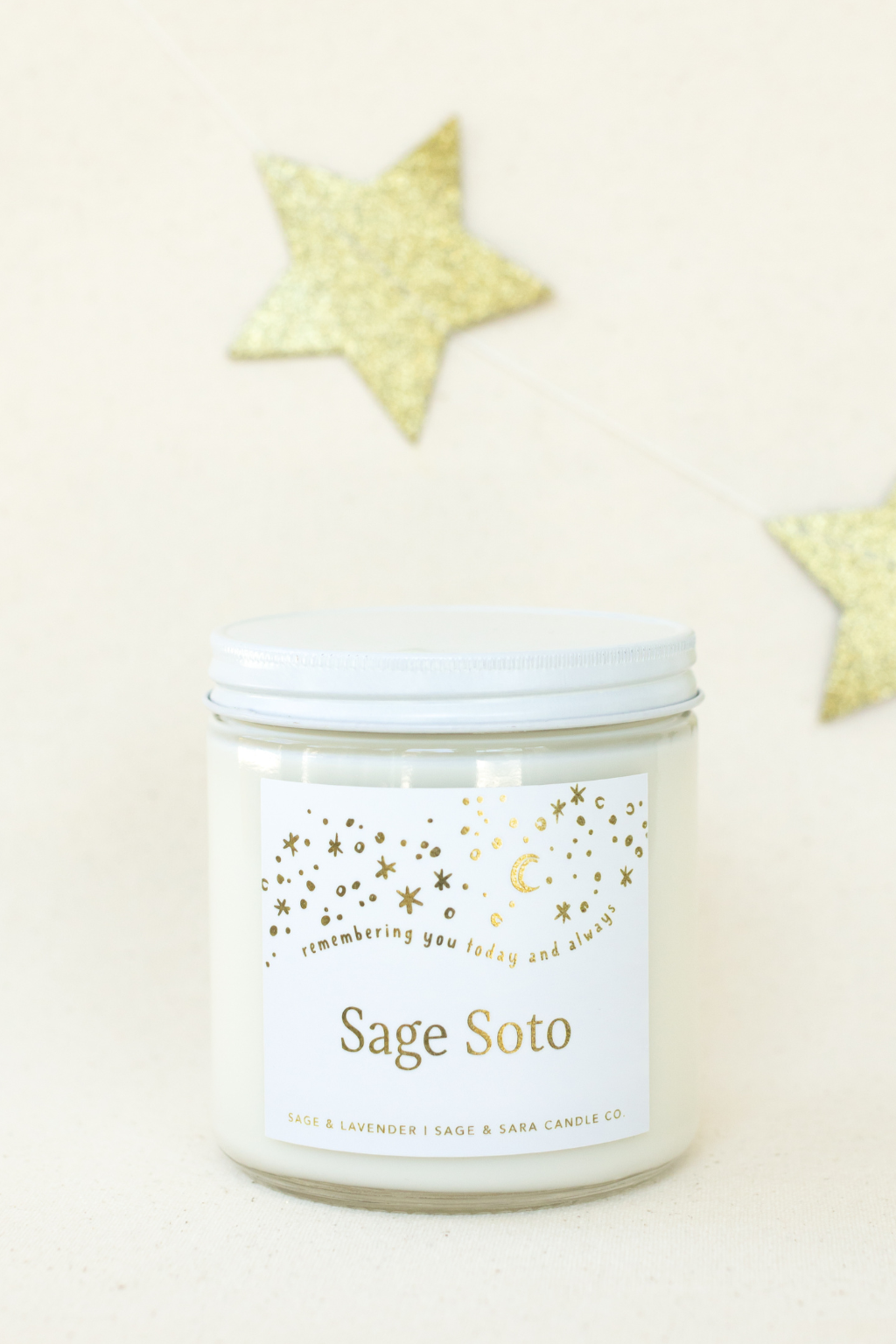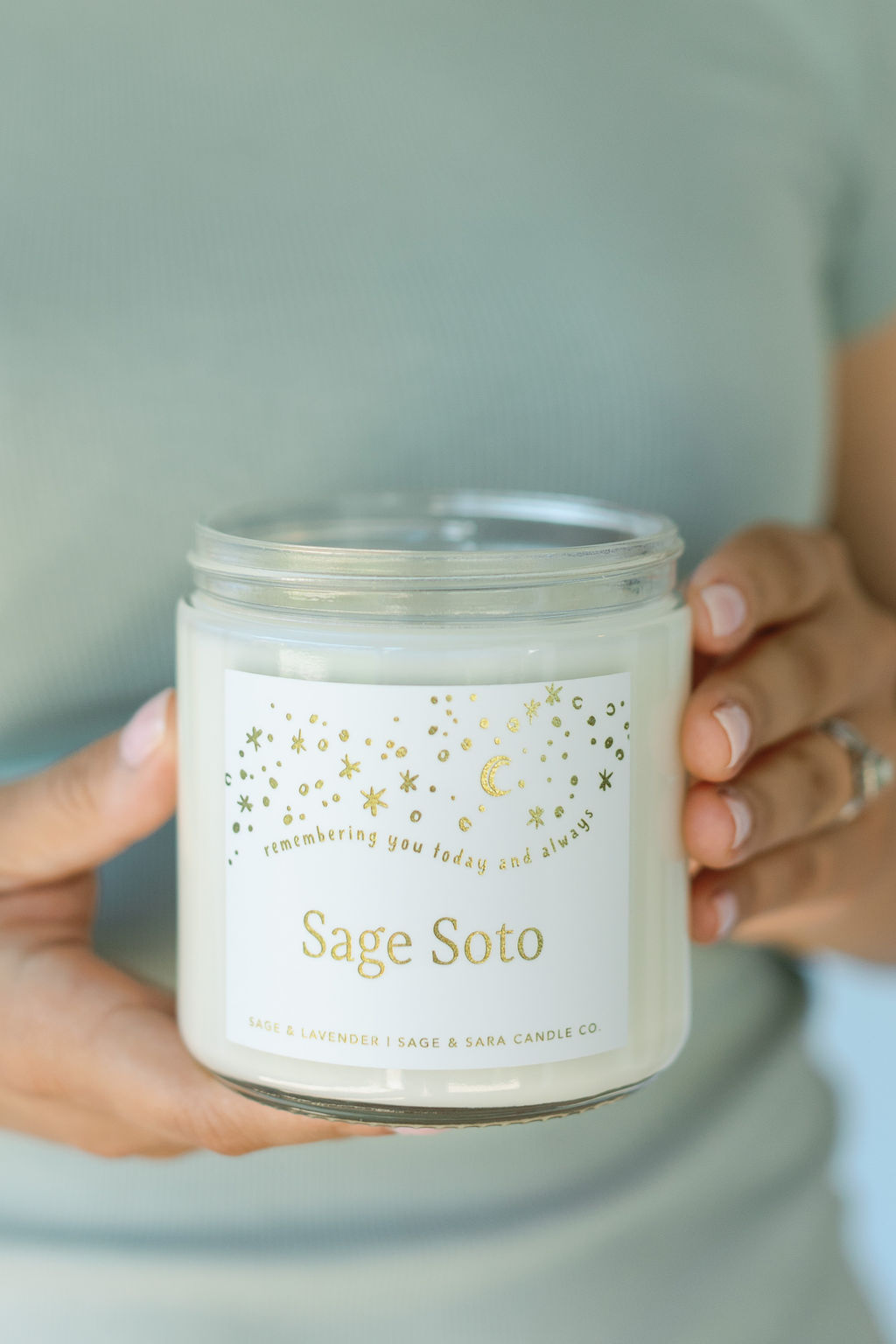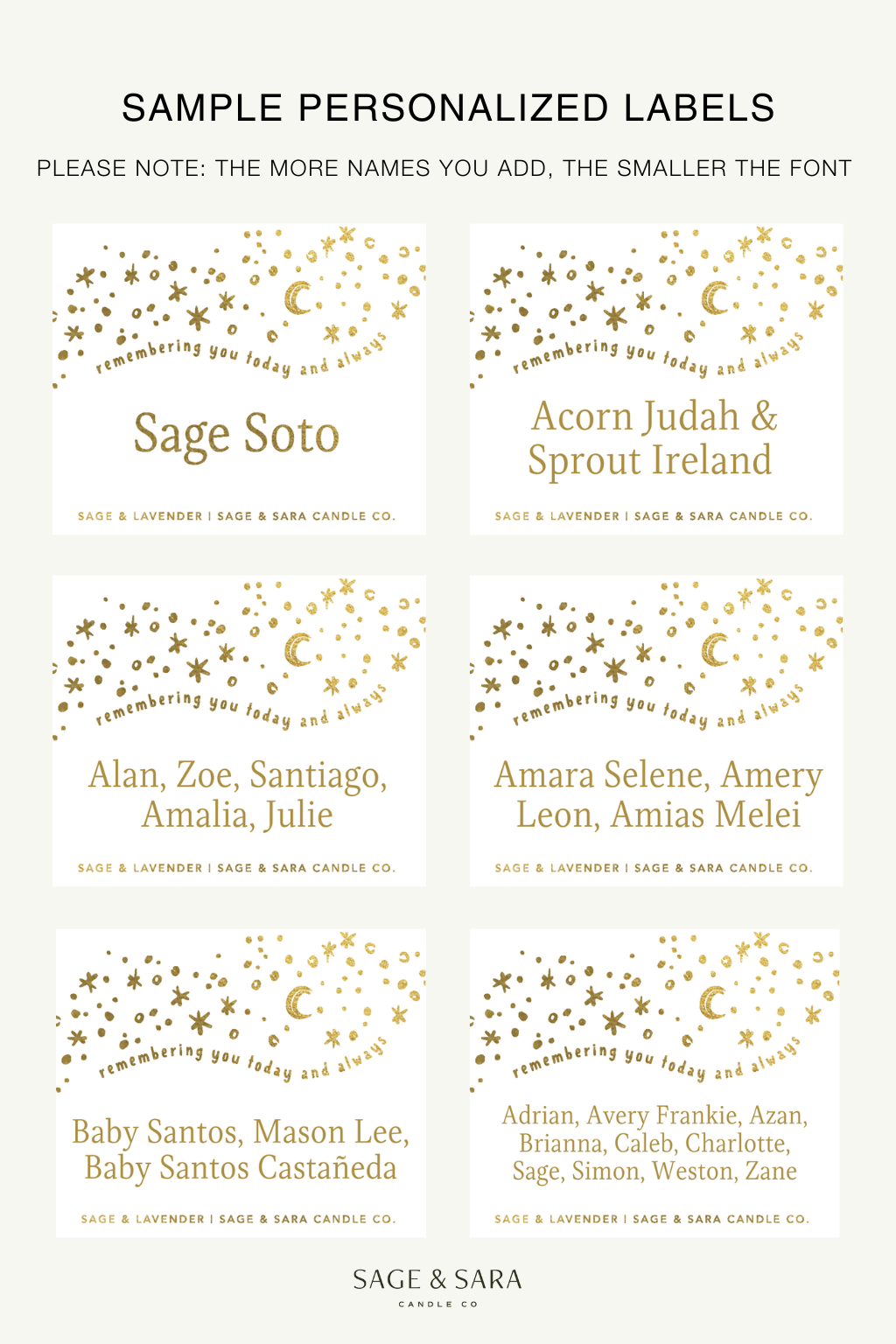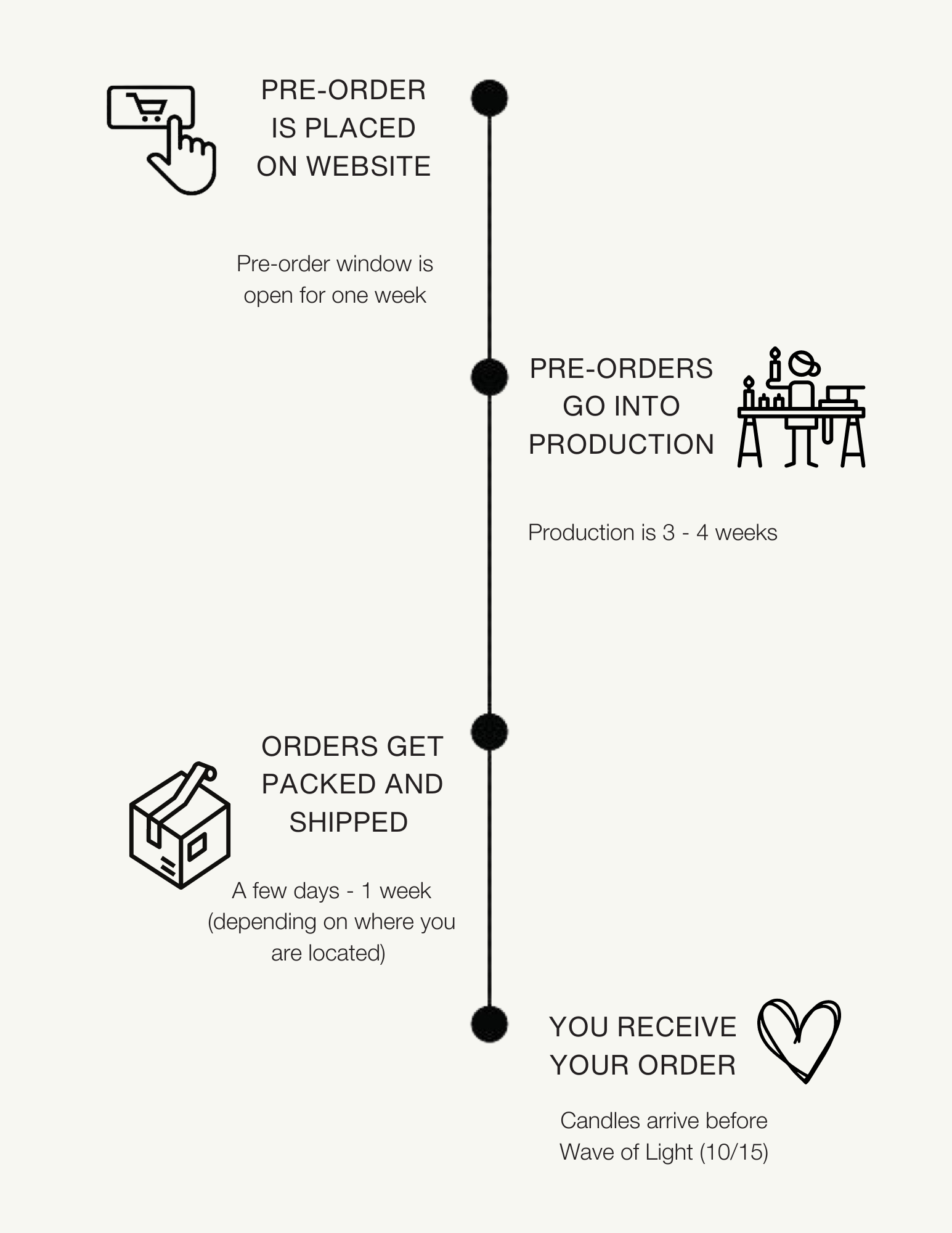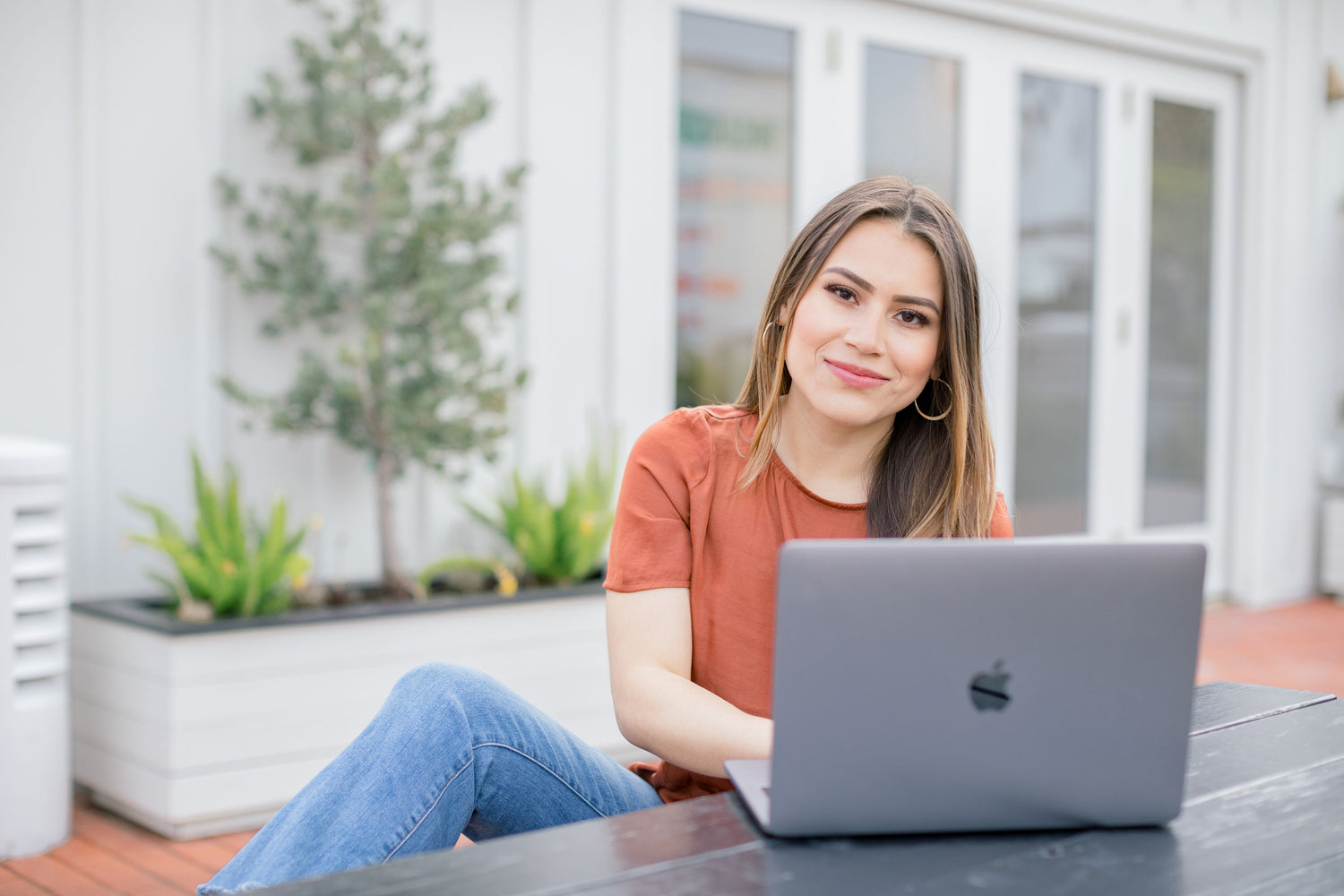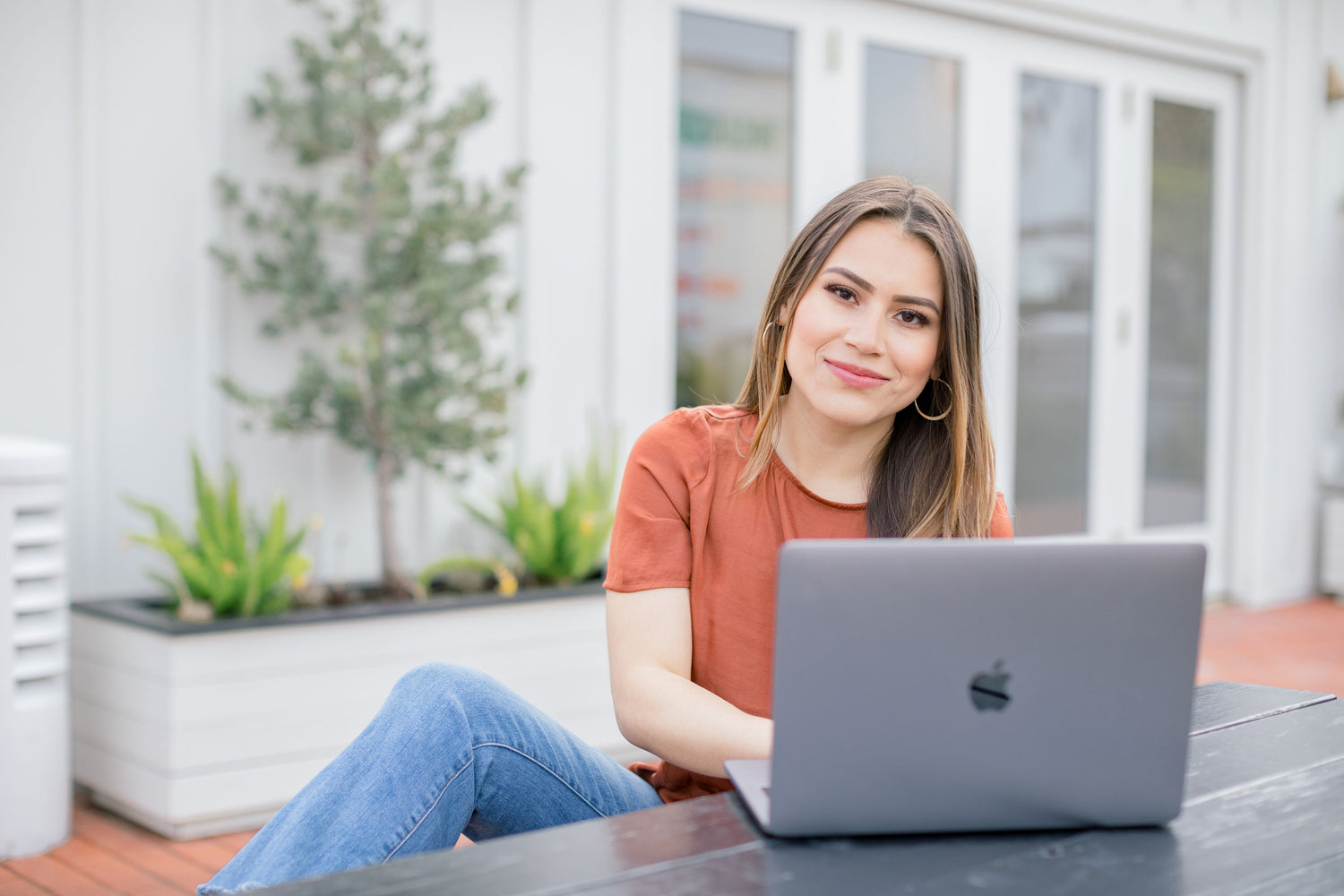 BEHIND THE BRAND
A NOTE FROM OUR FOUNDER
Three years ago my son Sage was born. Shortly after his birth, he died in my arms due to a fatal form of skeletal dysplasia. There's more to our story, but I'll save you all the details for another day.
After his death, I lit a candle for him every day. It became a daily ritual for me and I felt his presence near me. One day I thought 'how special would it be if I made his candles?' and then I thought 'what if I make them for other families who experience a loss, too?' I immersed myself in the world of candle making and later opened this shop.
My sole mission: to honor my babies and to support families. Since founding Sage & Sara, we've donated close to $10,000 to organizations nationwide and we truly could not have done this without you.
So, whether this is your first time learning about Sage & Sara, or you have been with us since the beginning, I want to thank you for being here and believing in what we do. 
Read More
REVIEWS BY REAL HUMANS
Working with Adeyling to create a candle in memory of my son, Ezekiel, was such a privilege! She listened what I wanted and created a perfect design. I will continue to order candles from her for as long as she makes them!

Miriam

These have become my new favorite candle. They smell AMAZING, and they also help honor my girls as well as Sage. Loss babies deserve to be remembered and Adeyling is doing just that.

Katelyn W.

The packaging was so thoughtful and prepared for anything that may have happened during transit to me. When I received my candle it smelled sooo good. We love the candles from Sage & Sara!

Jennifer B.

Everything from the inquiry process, design, to the execution was thoughtful and flawless. Adeyling is communicative, caring, and wonderful to work with. So thankful for these special candles!

Lauren M.

The candles and the handwritten note was something that meant a lot to the mourning family. These are difficult times and this personalized gift is a good way to remind parents that their beloved baby's memory will be honored.

Karla R.

Love that we could honor our son who passed away during pregnancy. Shipping was super fast. Beautifully packed as well.

Joanna J.